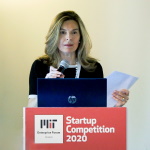 Executive Director at MIT Enterprise Forum Greece (MITEF Greece)
Antigoni Molodanof is the Executive Director at the MIT Enterprise Forum (MITEF) Greece, the Greek chapter of MITEF Global. The mission of MITEF is to inform, connect, and coach technology entrepreneurs enabling them to rapidly transform ideas into world-changing companies. MITEF Greece designs and implements targeted activities meant to contribute to the development of the local technology community. Its flagship activity is the MITEF Greece Startup Competition, a unique acceleration program that attracts ventures from the local technology and science ecosystems. Running for the 7th consecutive year, it has grown to become one of the most successful technology startup acceleration programs in Greece and in the surrounding region.
Antigoni is also Partnerships and Network Director at Sylipsis Corp., a US-based company services, with an international focus that grows technology sectors industries at the globally scalable level. The Sylipsis Model, emerged from the highly successful MIT Enterprise Forum Greece Startup Competition, draws the best technology ideas and projects from universities researchers and top industry and sector experienced professionals throughout Greece.
Prior to joining MITEF Greece, Antigoni was a Senior Wealth Management Advisor at Iolcus Investments S.A. and Senior Private Banker Advisor at Alpha Bank, where she developed and managed long term portfolio relationships with high net worth individuals as well as managing corporate accounts by providing investment and fiduciary services.
Antigoni holds a BSc in Business Administration-Marketing Management, Deree College, The American College of Greece.